At Something Pretty, our mastectomy bras are a fusion of comfort and style, and the Stella Bra 5715X epitomises this philosophy. Specifically designed as a moulded cup bra, Stella delivers a seamless, round, and natural shape with microfibre cups, ensuring exceptional concealment and confidence.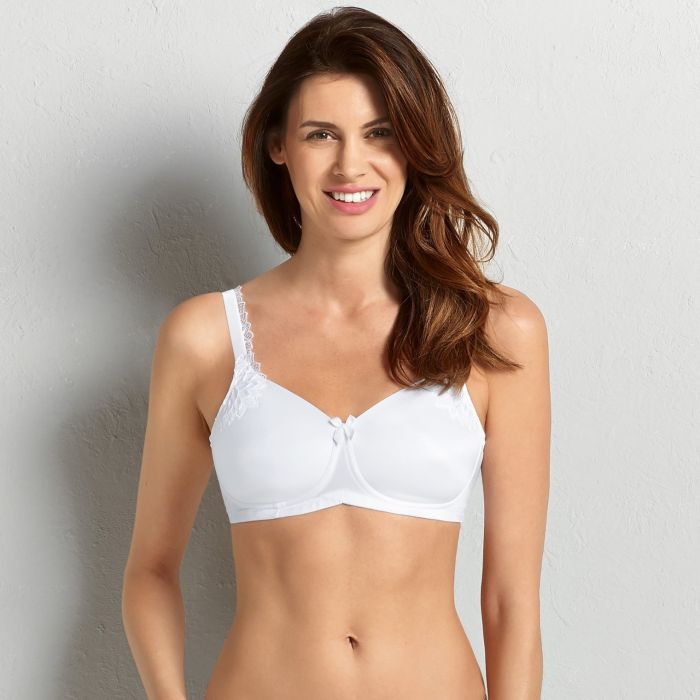 Elegance in Every Detail:
Setting Stella apart is the elegant embroidery where the cup and strap meet, transforming functional lingerie into a piece of art that celebrates femininity. This meticulous attention to detail reflects our commitment to elevating the aesthetics of mastectomy bras.
Double-Layered Comfort:
Crafted for ultimate comfort, Stella features double-layered, seamless cups, offering an ideal fit that embraces your contours. The double pockets, delicately made of breathable tulle, securely hold breast forms, ensuring both comfort and a natural silhouette.
Perfect Support, Invisible Grace:
Stella goes beyond concealment; it provides medium support for confidence throughout the day. Designed to be mostly invisible under clothing, it allows you to wear your favourite outfits with elegance and poise.
Key Features:
Seamless double-layered cups for an ideal fit.

Adjustable straps for personalized comfort.

Medium support for day-long wear.

Delicate, breathable tulle pockets on both sides.

Mostly invisible under clothing.

4-position fastener at the back for a customizable fit.
Stella Bra 5715X epitomises our commitment to crafting comfort without compromising style. It's more than a bra; it's an embodiment of elegance, concealment, and the joy of feeling beautifully comfortable. Experience the difference of thoughtful design that celebrates your unique journey.